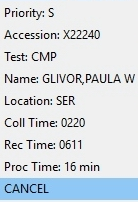 Select the field to filter on from the list.
You can filter on any field. The filter created will be an Exclude type filter.
*Note: The 'Tag' input box will show after you have selected a field.
After creating the filter, anytime text in that field matches the text you selected, it will be filtered out.
You can always go back and modify or delete filters in options under the Filter tab.
Click 'CANCEL' to abort creating the filter.
Although you can create a Coll Time, Rec Time, or Proc Time filter here, it will not work the way you think it will. See filters options for info on creating Time filters.