*Note: These days typically the firewall will Block the automatic ftp report. In that case you will need to attach the problem report file to an email. More info here: When there are problems with the problem report.
Only versions 1.76 and later will have the form displayed above.
After you click Submit, if Smarterm is running already, the report process will begin and you will see a messagebox saying
"An error was previously found in the macro and it needs to be reported.
Please press OK to continue or press cancel to abort this process."*
Another window will come up saying the files are being transferred and zipped, finally after that is done the ftp process will begin.
Smarterm is utilized to ftp reports, another Smarterm window may come up during the ftp process and you can see the files being uploaded to the server. You may see some ftp errors that are unavoidable, but if the ftp process fails entirely you will get a message stating this clearly.
1.87e and above: Behind the scenes, the problem reporting process has been improved especially for Windows 7 users. A lot of the problem report process such as batch file compression of the report was only working in Windows XP. Also there was a lot of unecessary duplication happening which has been eliminated.
Also the problem report prompt coming from the Smarterm macro has been changed to a countdown box that proceeds unless you press cancel.
*Sunquest/CPL versions of Ol Monitor only.
HMS version does not utilize Smarterm.
Error type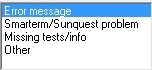 Optional: Select the type of problem you are having.
Links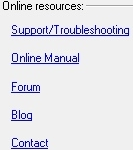 Direct links to online resources.
Recent log events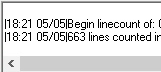 For your information only, this shows the current contents of the error log buffer.
If you have just had an error it may be shown here.
Problem info

Optional: Enter as much information as you like about the problem you are having.
Contact info

An email address is helpful, the rest is optional.
Enter some contact information if you would like a response to your report.
Auto ftp

When completed the report can be automatically ftp'd to the server. This is the easiest option but may fail if IT has blocked the ftp protocol.
*Sunquest/CPL versions of Ol Monitor only.
HMS version does not utilize Smarterm.
Submit/Cancel

If OL Monitor has already launched Smarterm, the report process will begin when you press Submit.
*Note After clicking Submit, if the auto-ftp process fails you will get some message boxes about the failure. If this happens you will need to email the PrbRpt.zip file to me.
If Smarterm is not running the report process will continue the next time it is launched.