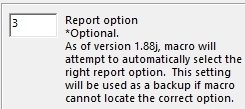 *With version 1.88j and above, this option is probably irrelevant. New macro code automatically selects the correct report option.
Versions 1.88j and below ONLY: Since the number for the report options vary from site to site/ user to user, you will need to find out what number to enter in 'Interface Report Option'.
The report options typically are:
1. ADT Transaction Log Report
2. ADT Error Log Report
3. Order Entry Transaction Log Report
4. Order Entry Error Log Report
5. Orders Not Processed
Version 1.86- only option 5 'Orders Not Processed' is supported.
Version 1.88- ADT Error Log Report option supported.